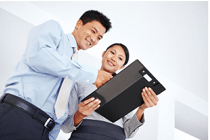 My Credit Info (www.MyCreditInfo.com.my) is an online portal developed by Experian Information Services (Malaysia) Sdn. Bhd. dedicated to help consumers to obtain their Personal Credit Report from anywhere and anytime with strong emphasis that reaches across all communication platform from computers to mobile phones and tablets.
A part from it, as time evolves with technologies, consumers are able to obtain their comprehensive holistic personal credit report online at My Credit Info.
As our office is located strategically in the city of Kuala Lumpur, The Boulevard Mid Valley City. We also welcome consumers to drop by our office to personally get their credit report, or they could always do it conveniently online via My Credit Info.
Here at My Credit Info, we help consumers to achieve good credit score by knowing where your credit is today, learning how to make smarter financial decisions tomorrow, whilst take action and control of your credit and protect your identity.
Get started! Get your credit report, credit score, credit rating and get identity protection with daily monitoring and alerts through Personal Credit Report Plus and JagaMyID.
Learn why do you need to obtain your Personal Credit Report today?
To check on your credit information before obtaining any credit facility from Banking or Non-Banking Credit Institutions.
To ensure your credit information is accurate, complete and up to date.
To prevent identity theft and fraud.
To ensure your personal details is not being misused by any third party.
To correct and update your credit information in the Personal Credit Report because banks & companies look at your credit report when you apply credit or facilities with them.