RAM Credit Information Sdn Bhd ("RAMCI"), a leading Credit Reporting Agency licensed under the purview of the Ministry of Finance Malaysia, is relied upon for credit reports and scores by some of the most renowned global and local brands as well as Financial Institutions, SMEs and Government Agencies.
The establishment of RAMCI is aiming to improve on the reliability of the critical information about Malaysian individual as well as the companies and their business affairs to the public. RAMCI recognised the void in the market and the unfulfilled demand for professional, reliable credit information and scores on individuals, companies, small and medium enterprises and therefore the establishment of RAMCI is able to fulfil the demand.
RAMCI is backed by RAM Holdings Berhad, established in November 1990 as Malaysia's premier credit rating agency provider of advisory services and DP Information Group, formed in 1978, a leading Singapore credit and information bureau, who is the subsidiary of Experian, the global leader in credit solutions and analytics, and a constituent of Britain's FTSE 100 index.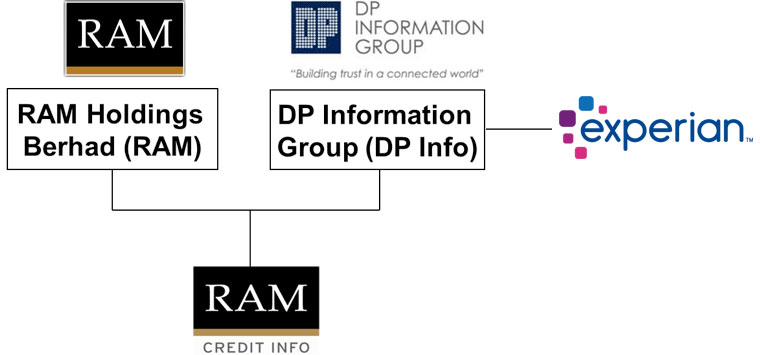 For the past many years, RAMCI operates a credit-information bureau in Malaysia that provides credit information and advanced scores/ratings to business corporations, financial institutions, and legal as well as accounting firms as a basis for credit sales, marketing, financial, purchasing and general management decisions. The objective is to provide comprehensive and credible credit information on the individual, companies and businesses, therefore shorten the processing time in making credit decisions and enhancing better access to financing for good credit profile individuals or corporate.
RAM Credit Information Sdn Bhd (RAMCI)
Malaysia's Leading & Most Trusted Credit Bureau (Credit Reporting Agency)
Our shareholders include:
RAM Holdings Berhad, Malaysia's premier credit-rating agency and provider of advisory services, and
DP Information Network Pte Ltd (a member of the Experian Group), Singapore's leading credit and rating bureau with over 30 years of experience.
We empower Companies making Critical and Time-driven Business & Credit decisions. Our Value-Added Credit information with Company & Consumer scores/ratings in our Databank gives:
100% of companies and businesses, directors and shareholders, sole proprietors & partners
Current and past shareholdings trace & listing of multiple address
Financial summaries & ratios & latest audited financials
Instant access to Singapore and Malaysia Company records
Comprehensive access of bankrupts and wound-up companies
Court litigation cases
Automatic monitoring of adverse information & changes in business status
Millions of payment information records from trade and non-banking credit providers.
Real-time and instant access to Banking Payment Information (also commonly known as CCRIS) from Bank Negara Malaysia.
Salary deduction Information of members from 90% of all cooperatives, Angkatan Koperasi Kebangsaan Malaysia Berhad (ANGKASA) in Malaysia
Credit & commercial enquiries count conducted by financial institutions & companies
Credit scores & ratings, robustly trained with local credit & trade records
International reports with ratings to over 200 countries
View RAMCI Profile
Creditrack
A One-Stop Web-based Search Engine developed by RAMCI for Online Information on Companies, Businesses & Individuals
Financials, ROC, ROB, Bankruptcy & Winding up Records
Auto Pre-Alerts on potential defaults &/or payment crisis
Monitors customer's credit term performance
Recovers and Improves Accounts Receivables
Identifies Credit-worthy potential customers
Enables Better Management of Customers for timely decisions
Access to Payment Profiles & Behaviours
SPeKar: Salary Deduction Information of members from 90% of all cooperatives
Creditrack

Benefits
24/7 online access
Simple to use, easy to comprehend
Information data sourced & aligned from reliable authorized sources
Integrated data for comprehensive credit checks & reports
Cost-effective value offers to suit different business needs & requirements
Responsive & diligent customer care providing prompt service and timely information
In-depth reports to critically assess all your business decisions
Easy-to-understand payment profiles, ratings & scores