RAM Credit Information Sdn Bhd ("RAMCI") , a Credit Reporting Agency licensed under the purview of the Registrar of Credit Reporting Agency, Ministry of Finance Malaysia, regulated under the Credit Reporting Agencies Act 2010.
RAMCI is the first Credit Reporting Agency in Malaysia with ISO 27001:2013 certification.
RAMCI is relied upon for credit reports and scores by some of the most renowned global and local brands as well as Financial Institutions, SMEs and Government Agencies.
The establishment of RAMCI is aiming to improve on the reliability of the critical information about Malaysian individual as well as the companies and their business affairs to the public. RAMCI recognized the void in the market and the unfulfilled demand for professional, reliable credit information and scores on individuals, companies, small and medium enterprises and therefore the establishment of RAMCI is able to fulfil the demand.
RAMCI is backed by RAM Holdings Berhad and Experian®.
RAM Holdings Berhad
Malaysia's leading provider of independent credit research and advisory services since 1990.
Pioneer provider of credit rating services to Malaysia Capital Market
Experian®
The leading global information services company. World's largest Credit Reference Agency listed in London Stock Exchange (FTSE-100 index)
Global leader in credit information, credit analytics and business solutions.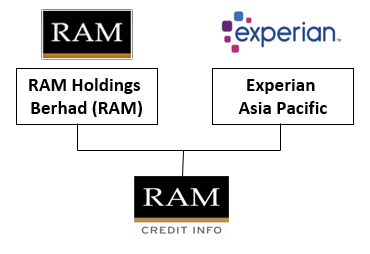 For the past many years, RAMCI operates a credit-information bureau in Malaysia that provides credit information and advanced scores/ratings to business corporations, financial institutions, and legal as well as accounting firms as a basis for credit sales, marketing, financial, purchasing and general management decisions.
The objective is to provide comprehensive and credible credit information on the individual, companies and businesses, therefore shorten the processing time in making credit decisions and enhancing better access to financing for good credit profile individuals or corporate.